While applying to US medical residency programs, you may run into certain specialties and programs that offer more than one "track" or length of training. Below, we'll help you understand how Residency Program Training Tracks work.
So, understanding the difference in medical residency tracks is very relevant when you are researching different medical specialties. As you'll see, some require different lengths of training and combinations of tracks in order to qualify for licensure. For example, Internal Medicine typically requires 3 years of training while Neurosurgery may require up to 7 years.
Residency Program Training Tracks
First, let's take a look at some common terms when discussing residency program training tracks:
Categorical (3 to 7 years): Programs that begin in PGY-1 and provide full training
Transitional (1 year): Programs that begin in PGY-1 and provide a well-balanced training experience that covers multiple clinical disciplines in preparation for training in advanced programs beginning in PGY-2
Preliminary (1 year): Specialty-specific programs beginning in PGY-1 that provide prerequisite training for advanced programs:
Preliminary internal medicine
Preliminary surgery
Preliminary pediatrics
Please note, Match A Resident Customized Lists do NOT differentiate between Program Tracks because the requirements are the same for Preliminary vs. Categorical training within specific programs. However, you can use ERAS to verify which training tracks specific programs offer.
Advanced (3-4+ years): Programs beginning in PGY-2. Advanced specialties include:
Anesthesiology*
Dermatology*
Radiology (Diagnostic)*
Neurology*
Physical Medicine and Rehabilitation*
Child Neurology*
Interventional Radiology
Radiology (Nuclear Medicine)
Neurodevelopmental Disabilities
Nuclear Medicine
Osteo Neuromusculoskeletal Medicine
Radiation Oncology
*Specialties marked with an asterisk are the most IMG Friendly and are available through Match A Resident Customized Program Lists
Physician (R) (3+ years): Programs beginning in PGY-2 that are reserved for physicians who have prior graduate medical education. In other words, for applicants who have completed a PGY-1 year and are ready to start a PGY-2 for the upcoming application cycle.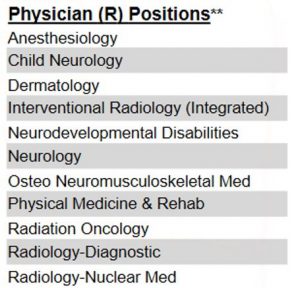 Physician (R) positions available in the 2021 Match
Applying to Advanced Residency Positions
Important: If you're applying to an Advanced specialty, you'll also need to apply to a Transitional Year (TY) program or a Preliminary program during the same Match cycle. In this case, your TY/Preliminary training begins in PGY-1, while your Advanced training begins in PGY-2. To strengthen your chances of fully Matching, you should apply to TY/Preliminary tracks at a variety of programs, not just those where you have applied for your Advanced training.
Advanced specialties that also offer complete categorical training tracks:
Anesthesiology
Child Neurology
Dermatology
Neurodevelopmental Disabilities
Neurology
Osteo Neuromusculoskeletal Medicine
Physical Medicine and Rehabilitation
Radiation Oncology
Radiology – Diagnostic
Considerations and Tips:
Write a Preliminary Personal Statement. For example, if you know you will apply to TY/Preliminary programs, it's best to have a special Personal Statement that emphasizes your goals and what you hope to gain from a Transitional or Preliminary position. So, think about the fact that your goals and expectations would be very different for a Categorical position. The Personal Statement should also be specialty specific. So, if you need assistance editing or writing your Personal Statement(s), visit us at Residency Statement. As you'll see, our experienced and professional writers are dedicated to delivering a perfected and polished Personal Statement!
TY/Preliminary positions do not provide full residency training.  So, you will need to complete your training by either securing an Advanced position for PGY-2 or re-entering The Match during the following year.
Transitional Year programs are not the same as Preliminary programs. Transitional programs are most often meant for recent US medical graduates who need more time to decide which specialty to pursue. Also, they can serve to allow IMGs to gain additional hands-on experience in a US clinical environment.
Once you've applied to programs and received interviews, you'll need to complete your Rank Order List. So, if you've applied to both Advanced and TY/Preliminary tracks, you will have multiple Rank Order Lists. For each Advanced program that you Rank, you will create a Supplemental Rank Order List for that program. For more details on creating your Rank Order List, read here.
Additional Support
Thanks for reading about Residency Program Training Tracks! Once you know what specialty or specialties you are interested in applying to, consider signing up with Match A Resident to get your Customized Residency Program List. We will provide you with important information about the programs you are most compatible with, helping you narrow down your best options for residency.
When you're ready to apply, check out Residency Experts for assistance editing and optimizing your MyERAS Application and supporting documents, including Letters of Recommendation and Personal Statements!