You already know how important your residency interviews are. Still, you might be struggling when it comes to ensuring you are polished, prepared, and intentional in each residency interview. In this blog, we'll share tips and advice so you can make a positive and lasting impression.
Polished and Professional
The first topic is how to be polished and professional during your interview. It all starts with your appearance.
Spend time selecting the right clothing, which should be formal or at least business casual. This shows you're taking the interview seriously and reflects your professionalism. While it's important to choose something formal, it's also great to show a little personality. You can do this with a colorful tie, interesting watch, or another piece of jewelry.
Don't forget to ensure your hands are well-groomed! Most people talk with their hands to some degree, so having clean and well-manicured nails may seem like a minor detail – but it's worth paying attention to!
Here's an important tip for you: there are reports of candidates being asked to stand up during the interview – so make sure you aren't caught in your pajamas from the waist down!
Background & Virtual Set Up
Next on the list is your background. It's crucial that you have a dedicated space for virtual interviews. This space should be quiet, well lit, and free from clutter.
Think about how to eliminate possible interruptions like barking dogs, police sirens, or traffic noise. Unexpected sounds are distracting for both you and your interviewers and could cause you to fumble a response or draw your interviewers attention away from you.
Next, set up your computer and do a test run to see if your lighting and audio need to be improved. You can enhance your lighting with an inexpensive halo light and invest in an external microphone if the one on your computer is of poor quality.
The visual aspect of your background is important too. Your interview space should be neat and free from clutter. For example, it's not a great idea to set up in your kitchen or a place where there is a bed visible. Choose an area that showcases something interesting about you, perhaps some artwork that's important to you, a collection of books you've read, or even a musical instrument that you play.
Delivering Polished Responses
Now that we've discussed how to polish all the visual aspects of your residency interview, let's go over how to deliver polished responses to your interview questions.
The first step in doing this is to BE PREPARED. This means taking the time to research commonly asked interview questions and plan out your answers.
There is a strategy to doing this well – and it's not memorizing your answers from start to finish. You definitely don't want to come across as over rehearsed. Instead, you are aiming for a conversational tone. Now, this doesn't mean you shouldn't spend time writing down and refining key points –  you should absolutely do that – but once you have content written down that you feel covers most of the bases, you'll want to start speaking that content out loud so you get comfortable enough with it to deliver it naturally.
You can think of this like telling a story to friends. You know all the key points and main ideas, and the flow of events, so when you tell the story to your friend on Monday, it will be similar, but not identical to how it sounds when you tell it to a different friend on Friday.
Practice for your Residency Interview
We recommend practicing your responses in different scenarios: with friends and family, alone in the car, in the mirror, and even recording yourself. It's also great to get feedback from others.
How much practice is enough? You'll know when you feel 100% comfortable "telling" your story, but most industry experts suggest practicing the content 10 times.
Preparing in this way for as many questions as possible is ideal and will help your interview go smoothly. If time is an issue, we suggest choosing 5 questions you expect to be asked and focusing on those. Our Interview Prep Series videos cover some of the most commonly asked questions!
Being Intentional
So, you're polished and prepared…what about intentional?
Being intentional during your residency interview means looking for opportunities to showcase your skills, strengths, and unique personal attributes during the interview. It also means knowing as much as possible about your interviewers. So, take the time to learn about program directors and coordinators and other program staff to see if you have any interests or experiences in common and look for ways to integrate this into the interview session.
Final Tips
Let's wrap things up with three final tips:
1 – Give yourself at least 30 minutes before your interview to prepare. Maybe you want to go over your responses. Perhaps you want to listen to some relaxing music and have a cup of tea. Whatever your strategy, building in this time will help you be in the right headspace going into the interview. On the other hand, feeling rushed can lead to stress which is a surefire way to give off the wrong kind of vibes.
2 – SMILE! Smiling is crucial as it tells your interviewers that you are approachable and enthusiastic.
3 – Be consistent with your interview performance, no matter where you're interviewing! You may have an interview scheduled at a location you're not very interested in and be tempted to "wing it" rather than prepare – but you never know how you might connect with the program and how your interests could change.
If you're looking for a comprehensive residency interview preparation solution, check out our Interview Prep service features: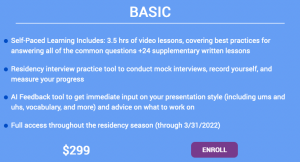 Want to learn more? Visit us here.