Advice for Completing the Experiences Section of the MyERAS Application
The MyERAS Common Application (Now called the MyERAS Application) is a section of your ERAS account that is meant to cover all the basic information programs would need to know about your personal and professional background. If programs want, they can also view the ERAS Common Application as a Curriculum Vitae (CV).  
One of the most important and most difficult sections of the MyERAS Application to fill out is the Experiences section. This is where you will break up your experiences (clinical, work, teaching, research, extracurriculars, and volunteer) into three categories: work, research, and volunteer.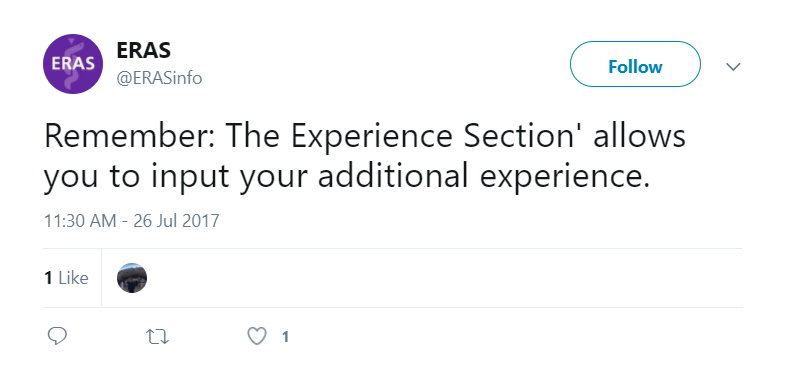 You can, and should, include all of your relevant experiences to prove to residency programs you are medically relevant and ready to train in a residency. It also doesn't just have to be clinical training. According to ERAS: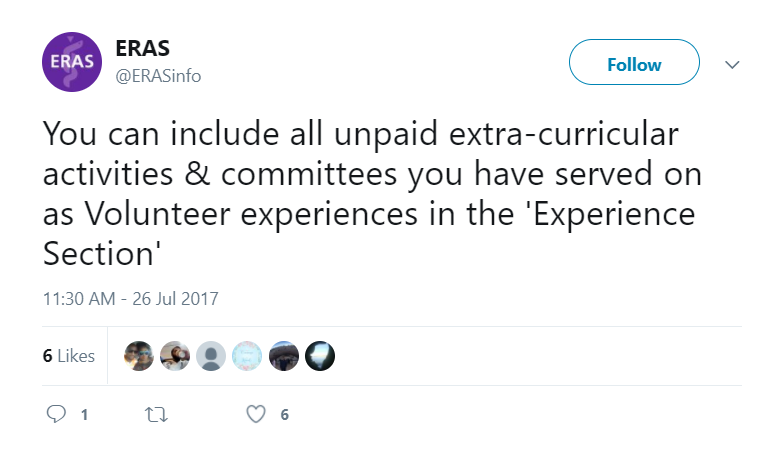 Adding Experiences
Each experience you add includes the following sections:
Experience Type:

Work – any clinical or teaching positions (paid or unpaid), and (maybe) your clinical rotations**

Research – research positions

Volunteer – unpaid or extracurricular activities

Organization

Position

Supervisor – Who did you report to (if applicable)?

Location: Country, State (if in the US), City

Average Hours/Week
Description

Reason for Leaving (only include if there was an outstanding reason)

Dates of Experience
**A note about including your clinical rotations.** According to the ERAS Helpdesk, you can choose to include clinical rotations, but this is entirely up to you as a residency applicant. Here are suggestions for including clinical rotations:
Current or recent medical students

can include core rotations and a few elective rotations or a summary of your time in one area.

However,

if these are included on your MSPE in detail

, rotations can come off as redundant

Ask your medical school if you can review your MSPE to see what amount of detail it has for your clinical rotations
Older candidates

(+5 years since medical school) or

International Medical Graduates (IMGs)

should pick their most relevant and recent experience as opposed to using medical school clinical rotations, especially if they were completed outside of the US. Use your experiences to make sure there are no professional gaps.
More Tips for the Experiences Section
Do NOT underestimate the description.

The most important part of the experiences section is properly explaining your experiences. Use a very detailed resume-style paragraph to go into detail about what you learned and how you learned it.

Include any medical or professional skills you learned or improved such as taking patient history or inserting a catheter for the first time  

If you know or have an idea of the language used in your Letters of Recommendation you can integrate those details into your descriptions

Don't repeat anything that was said in another section of your residency application such as your Personal Statement
Include experiences from all medical specialties

you have worked in. While your Personal Statements and Letters of Recommendation should be specialty specific, you want to include all of your medically relevant experiences in the MyERAS Application.
Take your time. Do not rush your application and make costly mistakes! All applications certified before the date programs have access to them are time stamped with the same date.

Proofread proofread proofread before you "Certify." Make sure each experience is filled out properly with no grammatical mistakes, spelling errors, or typos. Remember that the MyERAS interface does not have a spell checker, so copy and past your written sections into a word processor to check for you. If you want to ensure the quality of your MyERAS Application is as strong as possible, consider signing up for a Residency Experts package where you'll have the benefit of editing and optimization by a residency expert. Once you "Certify," your experiences will be locked in and

no further changes will be allowed

.