Are you doing everything you can to prepare for your residency interviews? Ensuring you are polished, prepared, and intentional in each residency interview is crucial. Here is how Match A Resident's Interview Prep can help you learn and practice your interview skills, so you can make a positive and lasting impression.
You'll start by learning from 24 written and video lessons. 

This curriculum includes lessons on how to prepare for all the most common residency interview questions, and how to address the most common challenges in interviews.
1: Most Common Questions
2: Experience Questions
3: Behavioral and Situational Questions
4: Personality Questions
5: Medicine Questions
6: How to address Red Flags for international medical graduates, specifically. For example, how to address the fact that you are an IMG and Did Not Previously Match
You can also build your answers using the "STAR"  tool that allows you to prepare your answers to tough behavioral questions. Just follow the guided tabs and advice for creating strong stories/answers.
PRACTICE:

Once you've reviewed the lessons, you can check out the practice interview tool, so you can rehearse and record your own answers out loud. It's important to get comfortable with your speaking points so that you can be confident, concise, and authentic on interview day.
ACCESS THE QUESTION LIBRARY: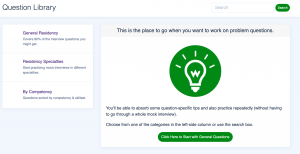 You'll have access to a whole range of questions that you can use to practice. You can also practice for specialty specific questions from question banks across 22 specialties:
Family Medicine, Internal Medicine, General Surgery, Psychiatry, Pediatrics, Neurology, Pathology, OBGYN, Radiology, PM&R, Anesthesiology, Emergency Medicine, Orthopedic Surgery, Neurological Surgery, Dermatology, Ophthalmology, Thoracic Surgery, Otolaryngology, Radiation-Oncology, Urology, Vascular Surgery, Plastic Surgery
Then, USE YOUR PRACTICE ANSWERS TO GET AI FEEDBACK AND GENERATE AN ACTION PLAN:
Review your score from our AI feedback tool based on the following categories:
Pace
Vocabulary
Eye Contact
Authenticity
Power Words
"Ums"
Filler Words
Pauses
Negative Tone
Length
Volume
Lighting
The report helps to identify areas of improvement to perfect your interview skills. The AI feedback can identify potential red flags in your presentation and speaking style, and then give you advice on how to fix them! It can also help you learn about what you're already doing well.
PREMIUM SERVICE

The premium subscription includes everything mentioned above, PLUS exclusive access to the interview expert and pioneer of the field, providing an opportunity for "Virtual Office Hours." You can also get personalized, detailed reviews of 3 of your recorded answers from the interview expert for invaluable insight to help you hone your skills even further.
We're very excited to offer you this comprehensive tool for interview preparation. Remember, it's up to you to prepare and be confident so that you can make a great first impression on all programs you interview for! Get started with Interview Prep now!
Questions or comments? We are happy to help! Give us a call at (858)-221-8510 or email us at support@matcharesident.com